This open house was active from April 23 - May 16, 2021. Information on this website may no longer be current. Email us for more information.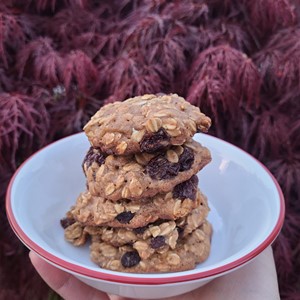 We're sorry we can't share cookies in person, but here is a cookie recipe you can make at home.
Overnight Oatmeal Raisin Cookies
Ingredients:
1 1/2 cups raisins
1/2 cup unsalted butter (room temperature)
1 cup dark brown sugar (packed)
1/3 cup granulated sugar
2 large eggs (room temperature)
1 1/2 teaspoon vanilla extract
1 1/2 cups all-purpose flour
1 teaspoon baking powder
3/4 teaspoon fine sea salt
1 1/2 teaspoons ground cinnamon
1/4 teaspoon ground allspice
3 cups old-fashioned rolled oats
Instructions:
Place raisins in a small pot and cover with water. Bring to boil over high heat. Remove from heat and cool 10-15 minutes. Drain.
Beat together butter and both sugars until smooth.
Blend egg and vanilla into butter mixture.
Mix in four, baking powder, salt, cinnamon and allspice until evenly combined.
Stir in oats and raisins until evenly distributed.
Cover dough and refrigerate overnight.
Preheat oven to 350 degrees; line two baking sheets with parchment paper.
Scoop golf ball sized balls of dough onto the parchment paper, about 1.5 inches apart. Flatten dough slightly.
Bake cookies for about 16 minutes, until edges are slightly brown. Cool before eating.
-Submitted by Matt Costigan